On October 11, 2021, CMIC Singapore joined China Merchants Energy Shipping Singapore ("CMES") to celebrate the 18th China Merchants Group ("CMG") Company Day, which falls on the second Monday of October each year. To commemorate this day, China Merchants' subsidiaries held various teambuilding and vibrant bonding activities to promote corporate culture, teamwork and enhance cohesiveness across different departments.
Under the new norm, where most of the employees are working from home due to COVID-19 safety measures, CMES organised and celebrated the Company Day online through a video conference, which was well attended by more than 60 employees in Singapore. CMIC Singapore was invited to join the event. The well organised event was balanced with reflection of CMG's values, objectives, quizzes and even CMG song sing-along, and it was concluded with a speech by CMES Managing Director, Mr. Taylor Tan.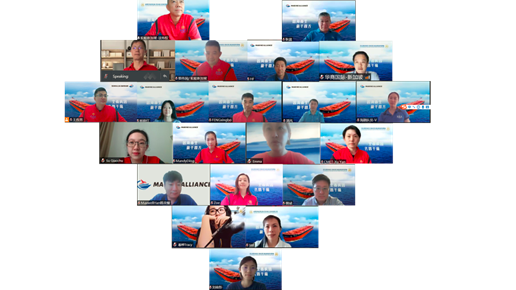 During this year's event, we reviewed the purpose and objectives of China Merchants' Company Day. CMG has more than 140 years of development and, and has been consistently pursuing the mission of; "Promoting social progress through successful business outcomes," which has attracted generations of outstanding talents to join CMG. CMG wants to helps its employees to succeed in a fulfilling workplace, and for employees' to reach their goals and lead a meaningful life filled with joy and fun.
During the programme, CMES expounded on the "China Merchants Group Creed in the New Era" and its interpretation. The " China Merchants Group Creed in the New Era" is an important achievement of the CMG from carrying out the study and education of the Party's history, which forms an important aspect in building a World-class corporate culture.
The Creed inherits and develops the century long history and culture of China Merchants Group, and is an integration of the history of; the Party, China, the history of Reform and Opening, development of socialism and the development of CMG, which plays a powerful role in guiding CMG employees to learn about history and passion for the Party and China, and to achieve success in the new era.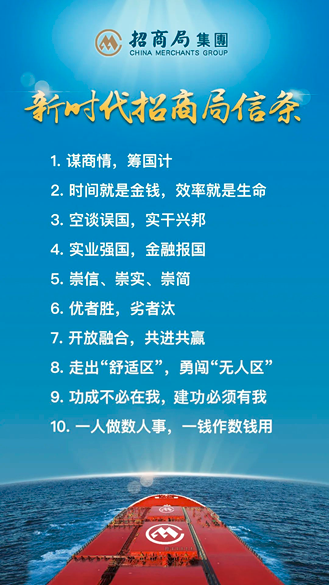 A forward looking corporate culture is a powerful source of energy and pillar of strength to drive sustainable development of a company. Since China Merchants Industry took the major stake in CMIC, the management culture and philosophy of China Merchants Group has provided rapid transformation and development of CMIC. Through participating in the Company Day event, CMIC team has gained a deeper understanding of the glorious history and core values, objectives of China Merchants Group. As a member of China Merchants Group, CMIC will adhere to CMG's mission of " Promote social progress through successful business outcomes", with a pragmatic mindset, dare to innovate, keep an open mind, and integrate into the overall development of China, serve the overall strategy of China Merchants Group, and strive to implement the "China Merchants Group Creed in the New Era".
CMIC International

October 12, 2021