On 27 October 2021, SMS Mariam jack-up drilling rig (GustoMSC CJ46 design) was selected to host Abu Dhabi National Oil Company ("ADNOC") CEO visit onboard through a virtual tour. As the major pillar of UAE's economy, ADNOC plays an important role in global energy supply chain and is one of the world leading energy companies. SMS Mariam was selected as it is considered as" the best of the rig among our fleet" according to ADNOC Drilling Operations Team. ADNOC encouraged SMS Mariam to continue to be the best rig and to maintain great performance with utmost HSE.
Selective Marine Services (SMS), the rig operator, shared the good news with CMIC and expressed their appreciation of CMIC's support and cooperation from CMIC Offshore Asset Management Team. This is another positive feedback CMIC received from SMS since last year.
While the Oil and Gas industry sees a recovery where Oil price has been fluctuating around US$ 80 per barrel, the Oil price has to be predictable and stable in the near to medium term to attract larger allocation of CAPEX expenditure from the NOCs and Energy Companies. Especially in the Middle East Region, which produces a third of the World's Oil output; the Drilling Contractors operating in the Middle East are in good position to capitalise on these opportunities.
CMIC congratulated Selective Marine Services (SMS) on ADNOC's recognition which shows a high level of professionalism, safety standards and determination to be an outstanding drilling contractor in the region. As co-asset owner, CMIC is very proud of ADNOC's accolade for SMS Mariam, and will continue to provide full support and cooperation to SMS.
The SMS Mariam and its sister rig SMS Faith both GustoMSC CJ46 design jack-up drilling rigs were built by China Merchants Heavy Industry and delivered in 2019. Besides, both rigs are certified by ABS and has a max. water depth of 375 ft as well as max. drilling depth of 30000 ft.
In April 2019, SMS Mariam and SMS Faith were chartered with a 3-year term by WME, a joint venture of CMIC, to SMS who is currently operating these rigs on drilling contracts with ADNOC.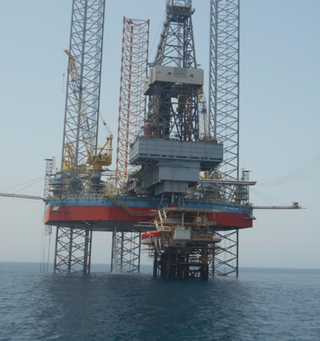 SMS Mariam on the drilling site

CMIC International
October 29, 2021