CMIC and Tan Kah Kee Innovation Laboratory establish hydrogen business joint venture
On December 18, 2021, a signing ceremony was held at Xiamen University between CMIC and Tan Kah Kee Innovation Laboratory to establish a hydrogen technology joint venture company. Lou Dongyang, CFO of China Merchants Industry Holding and Chairman of CMIC, Jiang Binghua, Co-Chairman of CMIC, Professor Jiang Yunbao, Member of CPC Committee and Vice President of Xiamen University, Tian Zhongqun, Member of Chinese Academy of Sciences and Director of Tan Kah Kee Innovation Laboratory, Professor Zheng Nanfeng, Executive Vice Director of Tan Kah Kee Innovation Laboratory, Zhou Hantao, Executive Vice Director of Tan Kah Kee Innovation Laboratory, and Professor Zhang Aiqiang, Vice Director of Tan Kah Kee Innovation Laboratory, attended the event. The ceremony was hosted by Professor Zhang Aiqiang.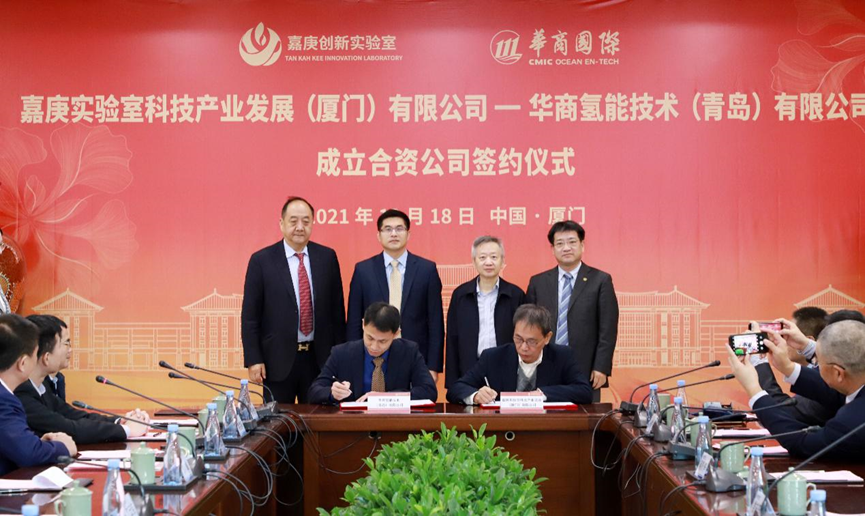 Huai Zengmin, CEO of CMIC Hydrogen, and Dr. Gao Xiaoping, Technical Director of Tan Kah Kee Innovation Laboratory signed the contract on behalf of both parties
Hydrogen especially green hydrogen will bring about massive potential to decarbonise industries in the future to achieve the carbon peak and carbon neutral 3060 goals and the national energy security. This joint venture signifies a major transformation for CMIC to become differentiated Energy Technology company, while tapping on CMIC's strengths and resources in China. There were already initial achievements by CMIC in providing high-end equipment and system solutions for offshore wind power installation vessels.
To accelerate adoption of hydrogen to achieve net zero, the solutioning and equipment need to be costs-competitive to achieve sustainable growth as a business model. The Joint Venture will identify and develop hydrogen application scenarios with flexible and innovative financing structure to generate new ideas and cooperation models to build up development of hydrogen industry and catalyse the demand for high end hydrogen equipment, providing tremendous strategic opportunities for CMIC in this transformation journey.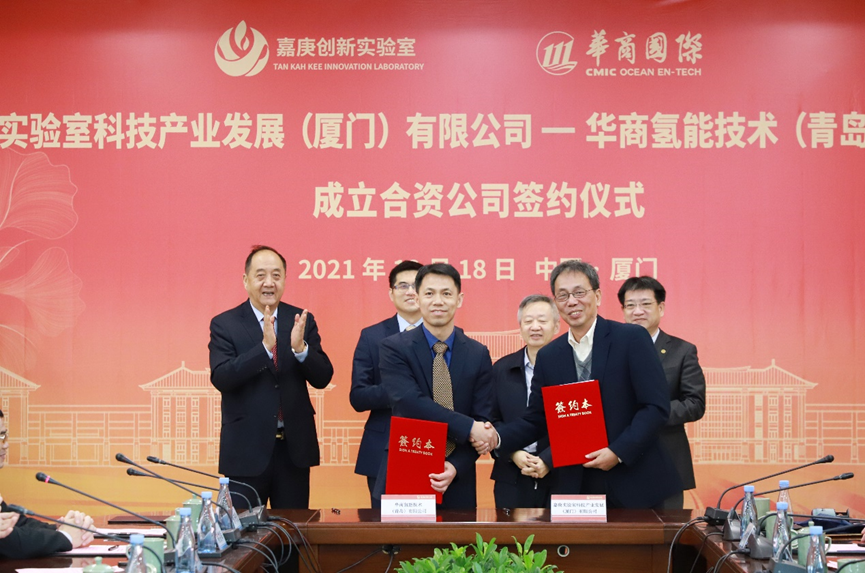 The cooperation aims to jointly promote the industrialization of hydrogen technology and realize CMIC's planning of hydrogen industry in domestic and foreign markets, through the deep integration of industry-university-institution. The joint venture will leverage the R&D and technical strength of Tan Kah Kee Innovation Laboratory and the capability and experience of CMIC in manufacturing, supply chain management and market development to focus on the R&D and mass production of hydrogen production equipment featuring large-capacity and high-current-density. With innovative electrode materials, optimized electrolyzer structure and improved energy conversion efficiency, the JV would quickly realize the large-scale commercialization of the next generation of high-power and high-efficiency electrolyzer. Taking this project as the starting point, China Merchants Industry Holdings, CMIC and Tan Kah Kee Innovation Laboratory will continue to strengthen their cooperation and build a synergistic platform of technology-capital-industry to reach deeper integration in industry-university-institution and innovation, thus contributing to the national carbon peaking and carbon neutrality goals.
Tan Kah Kee Innovation Laboratory, formally known as Fujian Science & Technology Innovation Laboratory for Energy Materials of China, was authorized and established by Fujian Provincial Committee of CPC and Provincial Government in September 2019 and is one of the first four provincial innovation laboratories in Fujian. As a Tire II institution approved by Fujian Provincial Government and jointly organized by Xiamen Municipal Government and Xiamen University, the laboratory planned to invest RMB 3 billion in the first phase with the goal of building a top laboratory in China. Driven by national strategic needs and local industry development, Tan Kah Kee Innovation Laboratory takes the responsibility of conquering strangle technologies and research results industrialization, focusing on directions including high efficiency energy storage, low-carbon energy systems, next gen display technologies, graphene and other advanced materials, instrumentation and equipment networks, energy policy think tanks, etc. Through innovative institutions and mechanisms, Tan Kah Kee Innovation Laboratory will gather global innovation resources to build a R&D booster and an engine of industrialization in energy material development. Tan Kah Kee Innovation Laboratory is a leading institution in alkaline electrolysis and PEM (Proton Exchange Membrane) electrolysis in China and has accumulated a lot of research results and valuable experience in the research and development of materials and technologies such as membranes, electrodes and catalysts through continuously investing in the past years.